Ok we did it. Here's a group picture.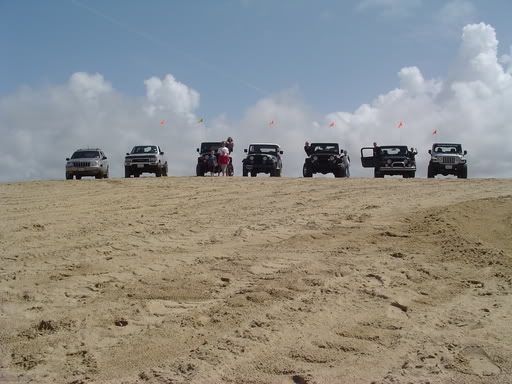 Left to right, Paul(anonymous, for now) John(new toy) B&T TJ(w/kids) Jermy(no kids) Steph(also anonymous but is joining MJR) IVasty(more kids) & AVNative & Son. Everyone brought their kids as you can tell, the place was pack or close to it. Sand was packed, traction was excellent but shortly after this pic Jermy's radiator fan dropped a blade. How many carry those and amazing thing was it didn't hit the radiator. He was able to call a local friend to bring him a fan. So we went and wheeled until he got there, AVNative helped install a new flex fan.
Here's a picture at a popular dune, that's AVNative in the background.
All in all a good time for me, actually wheeled more than I thought I'd be able to, this was a "check it out day trip" to come back in May. Great to see friends and meet new ones, we'll be back!
Black & Tan TJ