EveryOne is welcome to meet at the BADLANDS in Attica,Indiana.
Just a few of us guys will be meeting there on April the 2nd on a Saturday.
A few have stock & a few have lifts. We'll be playing around the trails & rocks.
There will be a few 1st timers going so, we have to take some mild trails in the beginning & work our way though the fun stuff at the end. I'm sure the others with bigger lifts & that are not worried about body damage will be running the Orange & Pink trails. I'll be playing in all the trails & will be playing in the Rocks the most.
Again, Anyone is welcome to join & meet up with us.
1st Timers: Have tow hooks in front & rear,
a CB is nice to have or a portable Walkie Talkie,
There is a fee to get in the park $20per Rig & $5per passanger
A flag is also required & can be bought at the office.
Stock Jeeps & Jeeps with any kinds of Lifts are Welcome.
Again...We Play at Our Own Risk.
I'll be the Jeep that won't be missed & easily seen.
Mines the Yellow "DISNEY" Jeep! WooHoo.
Hope to see you there & You can contact me at
IGotADisneyJeep@Aol.Com
[IMG]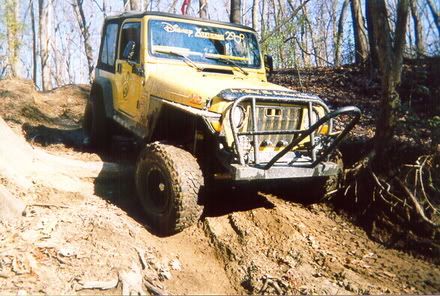 [/IMG]