The San Juan Mountains are arguably the most scenic mountains in America. Locals describe the area as "Switzerland of America" and "Million Dollar Highway" and "The Alpine Loop"
[color=red]Lost in a high and stunning glacier-carved wilderness that will leave you, quite literally, breathless—San Juan County has the highest mean elevation of any county in the United States! And her mountains have been voted a "Top 10 Adventure Destination" by National Geographic.
Moreover,"Silverton has more year-round access to more alpine back country than any town, anywhere, including Alaska,"[/color]
http://www.silvertonmagazine.com/scenic/index.html
The San Juan Mountains encompass parts of 4 counties. Ouray County, Hinsdale County, San Miguel County and San Juan County.
The San Juan Mountains encompass parts of 4 national forests. Uncompahgre National Forest, Gunnison National Forest, San Juan National Forest and Rio Grande National Forest.
A large part of the San Juan Mountains is also managed by the BLM - Gunnison Field Office.
The San Juan Lands Public Center is headquarters for the San Juan Mountains. They can be found at 15 Burnett Court, Durango, CO 81301. They can be reached by phone at (970) 247-4874. If they can't answer your question they can direct you to someone who can. The San Juan Lands Public Center produces a map of the area that can be found at
http://www.fs.usda.gov/Internet/FSE_...rdb5286478.pdf
The San Juan Mountains Association is the volunteer arm that promotes education, volunteer stewardship, information and hands-on involvement on public lands in SW Colorado. They can be found at 15 Burnett Court, Durango, CO 81301. They can be reached at (970) 385-1210 or
http://www.sjma.org/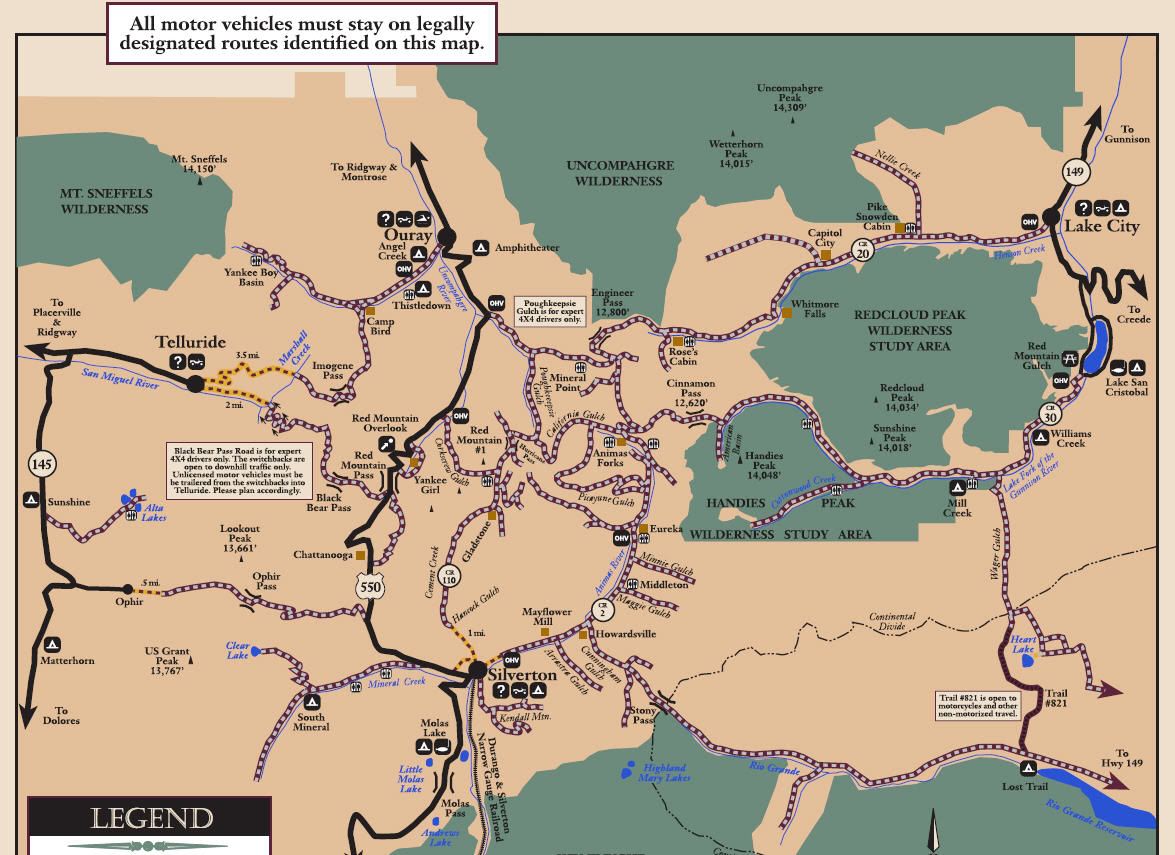 Backroad and 4WD Trails of the San Juan Mountains
Alaska Basin
Alta Lakes
American Basin
Animas Forks
Arrastra Gulch
Black Bear Pass
Brown Mountain
Buffalo Boy
Burns Gulch
California Gulch
Cinnamon Pass
Clear Lake
Corkscrew Gulch
Cottonwood Creek
Cunningham Gulch
Engineer Pass
Eureka Gulch
Eureka Townsite
Governor Basin
Gray Copper Gulch
Heart Lake
Hurricane Pass
Hurricane Pass Overlook
Imogene Pass
Kendall Mountain
Kite Lake
Last Dollar Road
Little Giant Basin
Maggie Gulch
Mill Creek
Minnehaha Basin
Minnie Gulch
Mineral Creek
Mineral Point
Nellie Creek
North Henson Road
Ophir Pass
Picayne & Placer Gulches
Porphyry Gulch
Poughkeepsie Gulch
Red Mountain Mining District
Red Mountain Gulch
San Juan Chief Mine
San Juan County Road 2
San Juan County Road 110
Schafer Gulch/Hurricane Basin
South Mineral Creek
Stony Pass
Wager Gulch
Yankee Boy Basin
A complete set of national forest Motor Vehicle Use Maps (MVUM) for the San Juan Mountains can be found at
Stay the Trail Colorado
Download Charles Wells waypoints